Academic State Champion - #13 out of 500!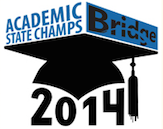 DB-TC was awarded the "Academic State Champion" title from Bridge Magazine in 2014.  Criteria for award selection by Bridge Magazine includes an up-close analysis of student test scores relative to the overall socioeconomic status of each school district in Michigan. More than 3,200 schools (traditional public schools and charters) were judged on state and national test scores over three years, with student income levels factored in for each school. Out of 73 schools receiving the honor across the state of Michigan, Dollar Bay ranked number 13.  
DB-TC schools, according to Bridge Magazine, is in the top 5% of schools in Michigan. The school-level winners ‒ comprising the top 5 percent of more than 3,200 schools across Michigan, represent every region of the state, from villages to urban areas, communities with large immigrant populations, wealthy suburbs and stretches of rural poverty.